Date/Time
Date(s) - 24/11/2018
12:00 pm - 4:00 pm
Location
Phoenix Health and Wellbeing
Categories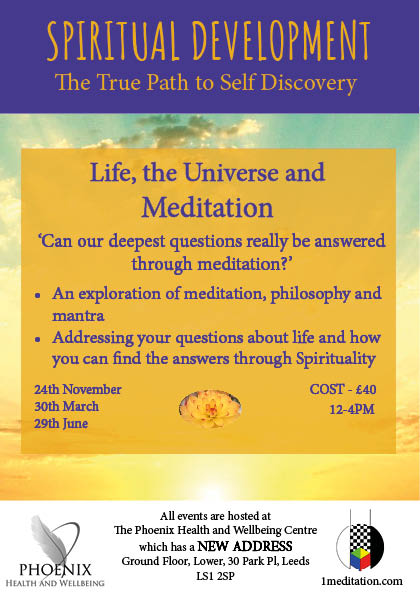 Meditation Workshop
Access deep stillness, peace and relaxation through the exploration of meditation.
Meditation, Philosophy and Mantra can help you gain insights into yourself and the World.
Ring 07551388380 for more information or book your place at Eventbrite.
Life The Universe and Meditation
Come along, unwind – learn to relax deeply, and enjoy new techniques and a few hours in the company of like-minded people. A great way to rejuvenate yourself, whatever your current experience of meditation.
Learn powerful meditation techniques for helping self-development.
Experience different meditation techniques as you learn to increase your awareness inside.
Experience guided meditations, breath meditation, focus meditations.
Address your biggest questions about life and the Universe and discover how you can find the answers for yourself.
And much much more…
After this workshop participants will have the necessary tools & meditation support to continue a regular practise of meditation.
Dates – 24th November, 30th March, 29th June.
Cost £40 per workshop.
Time 12 – 4PM.
Address – The Phoenix Health and Wellbeing Centre which has a NEW ADDRESS
Lower Ground Floor, 30 Park Place, Leeds LS1 2SP